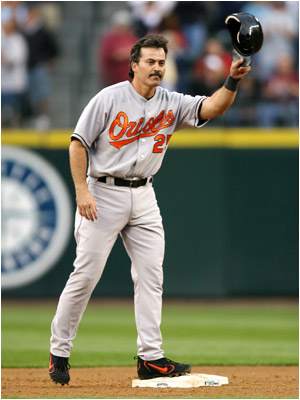 As of most us know, the ballots for the 2011 Hall of Fame induction are due sometime in the next month and the baseball world awaits as to who'll be included as immortals in Cooperstown, New York.
Names such as former Oriole Roberto Alomar -- who would have been inducted last year if not for the Hirschbeck incident -- and Bert Blyleven will more than likely have busts up in the Hall of Fame when summer comes around.
One person who will probably have to pay to get into Cooperstown is Rafael Palmeiro, another former Oriole.
His is a particularly sad and befuddling case.
Although Palmeiro was never the best player on any of the teams he played, he built a career worthy of the Hall Fame based on his numbers at the plate and longevity.
Of course, in the spring of 2005, he told Congress that he didn't use steroids – period.
However, a few months later, Palmeiro was the first player snared under MLB's drug policy.
Even up to now, he says he never used steroids and still sticks to the story of Miguel Tejada injecting him with a tainted 'B-12" shot.
Do I believe Palmeiro should be left out of the Hall of Fame – yes.
He cheated and got caught. Plain and simple.