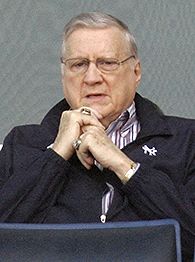 George Steinbrenner turns 77 today. With his health in supposedly in decline, and his role with the Yankees seemingly shrinking, the most well-known owner in all of sports is celebrating his birthday today.
Whether you care for him or not, let's wish him a happy birthday and for making the game of baseball colorful and interesting.
He may have helped baseball, or perhaps might have helped to destroy it; however, his impact has been immeasurable on the game (good or bad).
That being said, here's a video of George Steinbrenner (taken by yours truly) signing autographs for fans and a friend of mine during spring training in Tampa, Florida.
Video: