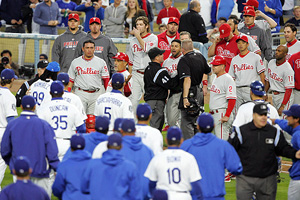 It was fight night at Dodger Stadium in Sunny California as Manny Ramirez and the Los Dodgers kicked some major Philly arse, 7-2. The Dodgers are still down 2-1, but could make it even tonight if they can get past Joe Blanton.

Plus, I need them to win so I can use may tickets for Game Six in Philadelphia.

After the Dodgers disposed of Jamie Moyer early by torching him for five runs in the first, things got interesting -- very interesting.

It nearly became fight night -- well, in a theatrical sense -- at least.

Since I am at work, and pressed for time -- I'll let Jayson Stark tell the story, since he was there, and could tell it better than ever I could.


A 94-mph Hiroki Kuroda cannonball whizzing behind the noggin of Phillies center fielder Shane Victorino in the third inning of Game 3.

Before that pitch, this was just baseball. After that pitch, we didn't just have a series anymore. We had …

A SERIES.

A benches-emptying, fingers-wagging, neck-veins-bulging, coaches-jawing, Manny Manny-izing, crowd-shrieking, live must-see drama kind of series.

So this is from all of us must-see October drama fans to Hiroki Kuroda: Thanks for livening up the week.

When the day began, the Phillies were in total charge of this series, up two-games-to-zip. Now -- one game, and one 7-2 wipeout of the Phillies by the Dodgers later -- this is a whole different deal.

and...

Manny Ramirez, in fact, proved to be a particularly engaging conversationalist. Heck, he was so engaging, it took a swarm of Dodgers to hold him in one place just so he could keep his gesticulations inside the 323 area code.

In the end, as major sporting donnybrooks go, it barely out-fracased your average Kimbo Slice fiasco. But as Phillies reliever J.C. Romero so astutely assessed it: "It's part of the game. The ratings are up. Everybody is happy."

finally...

From the second Brett Myers offered to trim Manny's dreadlocks with a straight-from-the-salon four-seam fastball in Game 2, it was only a matter of time before some sort of fun-filled imbroglio busted out in this series.

Dodgers players have been muttering about it for two days. One affectionately referred to Myers, between games, as a "wacko." And only a couple of hours before Sunday's game, right up there on the interview-room podium, Derek Lowe, L.A.'s Game 4 starter, suggested that it might be time to address this situation "Nuke LaLoosh style."
Sweet. I just know that last night was some great theatre, because there's nothing like multi-millionaire ball players getting hurt, getting suspended in the playoffs, and costing their teams a championship; thus, nothing was going to happen.
Oh, and Manny... you've got to read this.
He not only drives in the first run of a game the Dodgers have to win Sunday night, but when Hiroki Kuroda throws a pitch over the head of Shane Victorino, he moves all the way from left field to shortstop, and this from a guy who supposedly doesn't like to run all that hard.

"I was there in case something happens," he says.

Later, when both benches empty, he sprints from left to the first base line to stand in front of every one of his teammates, the new leader of the Dodgers screaming in Spanish and English, or "Spanglish" as he later describes it.

"I was just yelling," at anyone dressed in red, he says.

But talk about despicable -- he admits later he didn't give it his all before really charging the Phillies -- waiting for Russell Martin, Delwyn Young and coach Bob Schaefer to grab him.

"I didn't want to get thrown out of the game or suspended," he says with a grin, so he makes it look Hollywood good, fighting as if it takes everything Martin, Young and Schaefer have to hold him back.

Three months ago the Dodgers would've had to call a team meeting to determine who the team leader might be, maybe Jeff Kent stepping forward but the kids not following.

But here's Ramirez, who still insists he really doesn't care that Brett Myers threw a pitch behind his head in Game 2. "It's not me," he says, while noting he wasn't the only one forced to duck in Philadelphia.

"I was mad because it wasn't taken care of in Philly," he says. "We just want to send a message that we want to play the game right. It's not only me -- we're a team. And it's nothing against Victorino. He's a good guy. There's no bad blood."

But Ramirez appears so upset, later walking up the dugout steps when Martin is plunked again.

"Hey, I'm not a fighter," he says. "I'm a lover."
I still think he's a dick for what he did to the Red Sox fans, but man, is he ever entertaining. My lord, is he ever that much more exciting with the Dodgers than he ever was with the Red Sox.
Please, I am ever so praying for a Red Sox-Dodgers World Series.