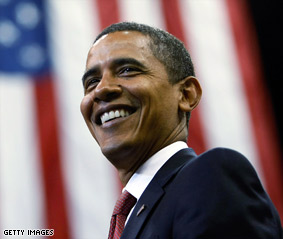 Congratulations Barack Obama.

There's not much more to be said aside from this being not only a watershed moment in America -- but the around the globe. I never thought I'd see this day -- an African American, bi-racial man elected President of the United States of America -- this soon in my lifetime.

To see the tapestry of people -- of all colors now in Chicago, but all over the country, in front of the White House, bars, universities, etc., on TV -- not only put a smile on my face, but brought me to tears.

What a moment; thus, whatever side of the aisle you're on -- whether you agree with him ideologically or not -- give this man the respect as the future leader of the United States of America. We're not a union of only black, white, brown, yellow, red rich or poor, red or blue stater, young or old -- we're all Americans are in this all together.

A night like tonight reminds me why we are the greatest nation in the world. We've started the road to moving on from the pain of the past, and hopefully we'll go further from this night forward.

John McCain, no matter what has happened or what people think of you -- you're a great American -- and thanks for finishing this race off with dignity.


Bet on Baseball at BetUS.com - America's favorite sports betting destination for all sports fans; adding more excitement and bonuses than any other sportsbook; on the web.