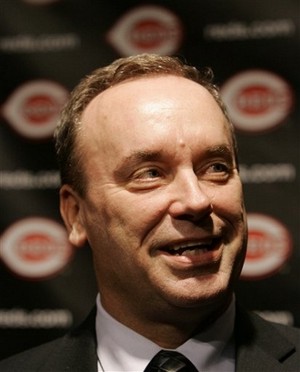 The Orioles have added another member to the front office...

ORIOLES NAME WAYNE KRIVSKY SPECIAL ASSISTANT
TO THE PRESIDENT OF BASEBALL OPERATIONS

The Orioles today announced that they have named WAYNE KRIVSKY as Special Assistant to the President of Baseball Operations. The former Executive Vice President and General Manager of the Cincinnati Reds brings over 30 years of experience in baseball operations to the organization and will be involved in all aspects of the Orioles' major league operations, including scouting, contracts and other baseball administration responsibilities.

Krivsky's three decades of experience include nearly 27 seasons as an assistant or special assistant to general managers in the Texas Rangers, Minnesota Twins and New York Mets organizations, with scouting and player evaluation experience at all levels of development.

Krivsky most recently served as special assistant to Mets General Manager Omar Minaya during the 2008 season. Prior to that role, he spent over two years as Executive Vice President and General Manager of the Cincinnati Reds.

As General Manager of the Reds, Krivsky was responsible for the acquisition of some of the team's best young players. He signed pitcher JARED BURTON and outfielder JOSH HAMILTON through the 2006 Rule 5 draft and acquired second baseman BRANDON PHILLIPS from the Cleveland Indians in exchange for a player to be named later in April 2006 and infielder JEFF KEPPINGER from the Kansas City Royals in exchange for a minor league pitcher in January 2007. Krivsky then sent Hamilton to the Rangers in exchange for 2008 All-Star pitcher EDINSON VOLQUEZ and pitcher DANNY HERRERA in December 2007.

The 54-year-old began his baseball career in January 1977 in the ticket department of the Rangers, moving to the Baseball Operations department two years later as assistant director of player development and scouting. He was promoted to assistant general manager in October 1980 and served in that capacity for Texas until he was hired by the Twins in December 1994 as special assistant to general manager Terry Ryan. He became assistant general manager for Minnesota in November 1998 and spent over eight years in that position before he was hired in February 2006 as the Reds' General Manager.

Krivsky was born in Niagara Falls, New York and is a 1972 graduate of New Canaan (CT) High School. He attended Duke University, where he played baseball for three seasons and earned a degree in management science in 1976.
Now, Krivsky -- who had some hits and misses as the former GM of the Reds -- has nearly three decades of experience in Major League Baseball.
I don't know a lot about him aside from what I have seen from the media and some Reds blogs, but his knowledge might serve some value to MacPhail, especially on the scouting and talent side.
Bet on Baseball
at BetUS.com - America's favorite
sports betting
destination for all sports fans; adding more excitement and bonuses than any other
sportsbook
; on the web.