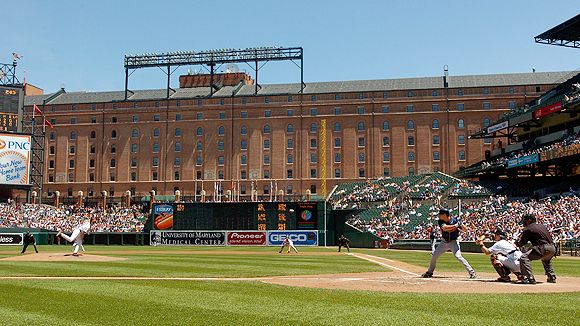 Jim Caple -- of ESPN fame -- recently wrote an article on ESPN's Page Two about the top 100 sports venues in the nation. Yankee Stadium was number one; however who was number two?

Baltimore's Camden Yards.

Here's what was said:

Because it started the entire retro-stadium craze and the tsunami of taxpayer-funded facilities that dramatically changed revenues and altered the sports landscape. Because according to a Fieldofschemes.com estimate, taxpayers now pay an estimated $2 billion annually to fund stadiums and enrich owners and players alike. Because it's a big reason your ticket now costs so much. Because it spelled the death of cookie-cutter architecture and a return to the style of Ebbets Field. Because it's a ballpark, not a stadium. Because it did all that and kept the luxury suites understated. Because of the brick warehouse, Boog's barbecue pit and the way Cal made us feel when he went to work for the 2,162nd day in a row. Because 16 years later (has it really been that long?) it still remains the model for what a ballpark should look like.
I have always said to friends and other fellow baseball fans that in 50 years, Oriole Park at Camden Yards will be in the same pantheon as Fenway Park, Dodger Stadium, Wrigley Field and the soon to be departed Yankee Stadium.
Of course, Caple rightly mentions the very good and bad that the erection of Camden Yard has brought not only the world of baseball -- also sports in general in terms of publicly funded sports palaces and the highly-debated topic of urban renewal -- however, the beauty of the facility can not understated.
Even sixteen years after it opened, with the exception of maybe PNC Park in Pittsburgh, no one else has probably gotten the retro-feel right. Unlike the soulless monstrosity in Washington D.C. known as Nationals Park, or the gimmicky Great American Park in Cincinnati, you feel like you're in a ballpark when you enter Camden Yards, not some mall or entertainment venue with little or any redeemable value.
Sometimes less is more, and it's great we have such an architectural gem in our region.
Now, only if we could get a winning team on the field, then Camden Yards would be something.