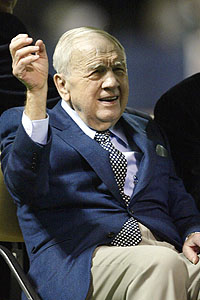 I just read this online, but longtime Minnesota Twins owner and billionaire, Carl Pohlad passed away today at 93.

From what I know of him from talking with some Twins fans over the years, they have called him cheap, greedy and demonize him for his part in the attempted contraction of the team.

In light of it all; however, you cannot discount the success that's he had in life and with the Minnesota organization.

Rest in peace, Carl Pohlad.


Bet on Baseball at BetUS.com - America's favorite sports betting destination for all sports fans; adding more excitement and bonuses than any other sportsbook; on the web.