Whether you think Curt Schilling is a blowhard, attention-getter, or love his blog, 38 Pitches, it looks one of the heralded pitchers in recent memory may have his career in peril...

Needless to say, Red Sox Nation is holding it's breath concerning it's legend.


From Yahoo Sports: Curt Schilling has a "significant" shoulder injury that could require career-ending surgery, according to a report that also said the Red Sox looked into whether they can void the $8 million, 1-year-contract he agreed to three months ago.

The Boston Herald reported on its Web site on Thursday that Schilling could have an injury to his rotator cuff or labrum, one serious enough to require surgery that could end Schilling's career. The 41-year-old right-hander has said 2008 will be his last year.

Schilling did not respond to a telephone call or e-mail seeking comment, and his publicist, Katie Leighton, said Schilling would not have any comment Thursday. Red Sox officials did not respond to multiple e-mails and calls seeking comment; spokesman John Blake said the team had no comment.
Hope the man gets well again. It'll be shame if he cannot pitch anymore, but he's had a hell of a career and has been nothing great when it comes to interacting with fans (I know myself...)
***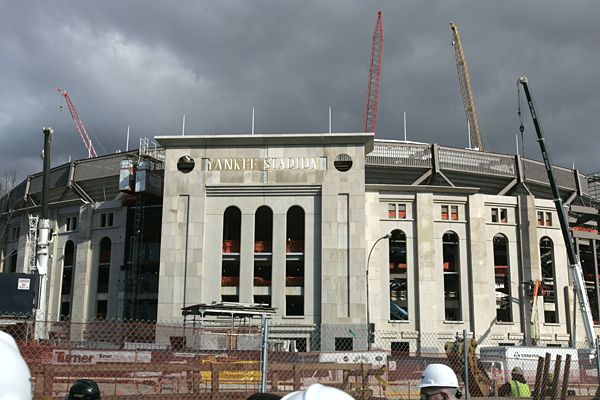 We all know the new Yankee Stadium will be a destination for any Yankee fan and a place which will rival any stadium in terms of opulence, but this is getting ridiculous.
From ESPN.com:

The new Yankee Stadium will have party suites, a members-only restaurant, a martini bar and a price tag to match all the luxury -- $1.3 billion, up from the original estimate of $1 billion.

"We tried to reflect a five-star hotel and put a ballfield in the middle," said Yankees chief operating officer Lonn Trost, who hosted a media tour Thursday.

The new ballpark, set to be ready for the 2009 season, is directly across the street from the old House that Ruth Built. The site is now a welter of cranes and construction trailers, with hard-hatted workers patrolling the infield.

The granite and limestone exterior is designed to evoke Yankee Stadium when it opened in 1923, before it was remodeled in the 1970s.

But inside there will be amenities unheard of in Babe Ruth's day -- or in Reggie Jackson's.

There will be a conference area with video conferencing so that a corporate group could have a daylong meeting and then stay for a game. A concierge will be available to procure theater tickets or restaurant reservations.

There will be 51 luxury suites, two large outdoor suites and eight party suites with seating for up to 410 people in total.

The 58-by-103-foot center field television screen will be six times the size of the video screen at the current stadium.

The dimensions of the field will be the same as at the old ballpark, which will be partially demolished.

Trost said the cost overruns included $150 million in enhancements such as the giant video screen, $138 million in food and beverage costs not included in the original estimate and $50 million from delays due to a lawsuit by community groups that sought to halt construction of the stadium.
Yikes, I shudder to think what the cost of tickets will be up there.
Any Yankee fans want to chime in?