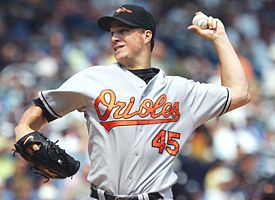 This just in.

Erik Bedard and Jeremy Guthrie are good, and only now is the national media is starting to take notice.

The sometimes defacto Yankee-Red Sox network, ESPN has a great profile on Erik Bedard and his case for the Cy Young and a Video of Jeremy Guthrie on their website.

Bedard may be enigmatic and surly to the media; however, he is looking now as one of the best pitchers were have seen in recent memory. He had a shaky start to his career, but under the tutledge of Leo Mazzone, his changeup and a jolt of confidence, Erik's career is taking off.

And what can we say about Guthrie -- a great guy, pious, and he's got an incredible arm. The Orioles should be appreciative of every day he wears that uniform. I have chatted with Jeremy several times, and let's celebrate having him on the team because he is a class act.

Check it out!

Also, check out David Picker's article in the New York Times about Erik Bedard...