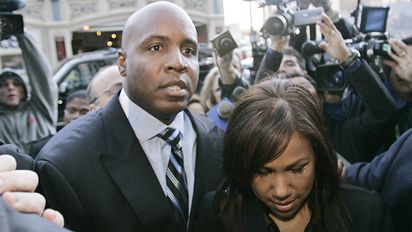 As expected, former Giants slugger and home run king, Barry Bonds pleaded not guilty Friday to charges he lied to federal investigators about using performance-enhancing drugs.
According to a report from the AP, U.S. District Judge Susan Illston ordered Bonds released on $500,000 personal recognizance, meaning he won't have to put up any money unless he violates the conditions of his release. He was ordered to return to court on Feb. 7.
***
In spite of his legal troubles, Barry Bonds may be back in a baseball uniform in 2008. Considering he led the Giants in homers in limited playing time, along with an incredible .OPS, it wouls be prudent for a team to sign him.
Well, he might be closer to the Bay than would think if the Oakland A's re-sign him.
According to the San Francisco Chronicle: If they had decided to rebuild, the A's wouldn't have a spot for Barry Bonds.

However, the club is intact as the winter meetings end, and Oakland is considered the hot pick to sign the free-agent outfielder despite his legal troubles and the potential public-relations issues that accompany him.

"There is no doubt in my mind that Oakland will sign Bonds," one major-league executive said Thursday as the winter meetings wound down. "I'd be shocked if it didn't happen."

Two other teams also have expressed interest in Bonds, an industry source said. Bonds is most likely a fit for an American League club, so that he could serve as a designated hitter. The A's, though, apparently have told Bonds that if he signs with them, he would appear in left field with some frequency. The home run king would be splitting DH duties with Jack Cust.

"I'm speaking with American League clubs as well as National League clubs," Bonds' agent, Jeff Borris, said Thursday.

According to several people with knowledge of the talks, the A's were working on a deal to sign Bonds last month before he was indicted on charges of perjury and obstruction of justice. Bonds will be arraigned on those charges in San Francisco today, but there is a belief in baseball and legal circles that a trial would not be held until after the 2008 season, or even early 2009.
Considering the A's need power, and Bonds would still draw fans to the park in that area, I'd say take the gamble.
Technorati Tags:oakland a's, baseball, sports, barry bonds, the court system, steroids, peds
Generated By Technorati Tag Generator