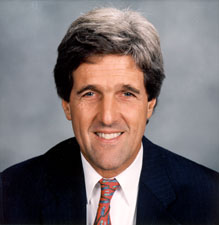 If you're a sports fan, unless you have been living under a rock, you know the New England Patriots are 15-0, and have a chance to be the second team in NFL to finish a season perfect (the other team being the '72 Miami Dolphins).

The New England Patriots will take on the New Yorks Giants in the Meadowlands in NEw Jersey.

However, there is one slight problem; alas, the game will be aired on the NFL Network, which is available to only 30 million viewers and Massachusetts senator, John Kerry thinks that it is an issue - a big one.

See, the senator wants the game to shown across the country on network TV:

From Boston.com: Massachusetts Senator John Kerry has appealed to NFL Commissioner Roger Goodell to take action to ensure that all Patriots fans in New England, and across the country, will have the chance to view the team's season finale against the Giants.

The game is scheduled to be broadcast on NFL Network. WCVB in Boston (Channel 5) will also carry the game, but that still means parts of New England won't be able to see it.

"In just five days, the Patriots will try to become the first team since Don Shula's legendary '72 Dolphins to finish the regular season undefeated, but huge numbers of Pats fans today wouldn't be able to see the game. Unless immediate action is taken, thousands of fans outside the Boston area will not even have access to the broadcast," Kerry said in a press release.

"If this isn't fixed in a hurry, it speaks volumes about how some big interests see the fans. I hope the NFL sees the error of its ways and allows every 'twelfth man' to see this unprecedented event."

John, as noble as your gesture may seem, do you not have other issues to worry about? The NFL is a big business, a private one at that, and they can do as they please. Do I support it - no; however, I think government has no place in determining in what private entities should do with their product.

Meanwhile, I'll be praying for my Redskins to whoop on our arch enemies, the Cowboys and maybe the Ravens will perhaps come out with a miracle win against the Steelers.


Technorati Tags:john kerry, nfl, football, sports, new england patriots, new york giants, nfl network
Generated By Technorati Tag Generator