I am home from work; albeit, struggling with something -- not sure if it's a cold or what. Anyhow, what a night last night.


***
First off for Yankee fans, don't jump off the cliff now; however, today's game is a must win. They lost 12-4 in Cleveland as C.C. Sabathia struggled but won, and sinkerballer Chien-Ming Wang looked awful and the Yankee bullpen didn't do him any favors. The Tribe grew up in a hurry; however, old man Kenny Lofton came through in a big way.
Of course, the big talk is of Joe Torre possibly being canned as well if the Yankees don't make it to the ALCS, but the matchup on Friday has battle tested Andy Pettitte for the Bombers vs. Fausto Carmona for the Indians.
***
How about 'dem Rockies? Fans of the Phillies may want to go out and commit suicide if they cannot salvage their season. Down 2-0 in the series, diminutive Kas Matsui nearly hit for the cycle as he hit a grand slam homer, tripled and doubled to lead the Rockies over the the Phils, 10-5.
Colorado has won 16 out of their last 17 games, and are no doubt the hottest team in the sport.
Meanwhile, the Philly papers are taking Charlie Manuel to task for he removing Kyle Kendrick and replacing him with starter-turned-reliever-in-the-NLDS, Kyle Lohse. As we all know, Lohse gave up the homer to Matsui that opened up the flood gates.
Yikes.
***
The Cubbies are seemingly screwed, Bartman or not. They lost a must-win game last night in the desert, and now the pressure is on them from all fronts to win.
Last night's game ended well after my bedtime, but Arizona's kids helped them beat Chicago, 8-4. After a season that looked to be lost, the Cubs are on the ropes.
And the Diamondbacks, no one picked them to win; however, they are proving all the experts wrong.
***
* I'll be looking forward to the Red Sox/Angels game on Saturday as Daisuke Matsuzaka counters against Kelvim Esobar at Fenway Park.
* Meanwhile, the Pirates fired Jim Tracy as manager. It seemed like the Pirates, who ahve a wealth of youngsters have not improved at all, and as well the losing didn't help.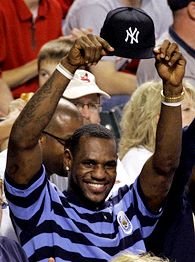 Lebron, I know you love the Yankees, but do you not think it was a bit much to show up at Jacobs Field and pledge you allegiance to the Bombers? I don't think it's a big deal; however, it seemed to irk a lot of Ohio.