As reported very early this afternoon, major league pitcher, Joe Kennedy passed away suddenly at his in-laws place in Tampa, FL. He was only 28 years old and left behind a wife and a young daughter.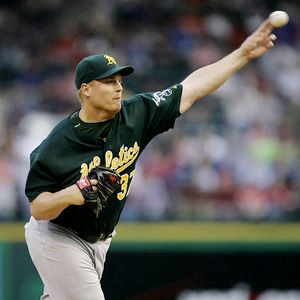 Obviously, I being a year older than he, I was just shocked when I read the news appear on my RSS reader around lunch time. I was about to head to cover a basketball on the campus of the University of Maryland and the first words out of my mouth was, "oh, my God".
He was the second young player to lose his life this season, but when this happens to someone who seemingly had a dream career, a family and everything to live for, you often ask yourself, "why"?
For me, it does not matter if it's Joe Kennedy, or Joe Smith; no one that young, especially with a family should die in the fashion
From CNNsi.com: After going to bed early, Kennedy woke up at about 1:15 a.m. Friday and collapsed as he was leaving a bedroom at the home of his wife's parents, Hillsborough County sheriff's spokeswoman Debbie Carter said. Hillsborough County Fire Rescue took Kennedy to Brandon Hospital, where he was pronounced dead, she said.

"We were terribly shocked," Blue Jays president Paul Godfrey told The Associated Press. "From what we understand he was in Brandon ... to be the best man at a wedding today."

Godfrey didn't have particulars on the cause of death.

"Obviously, when a 28-year-old man dies, ballplayer or not, it's a terrible, terrible thing," he said.
In the end, it seems that Joe Kennedy was loved and appreciate by everyone, teammates, friends and family alike.
Mr. Kennedy, you might have left this world, but you are in a better place.
I really didn't know who he was, besides being a pitcher; however, to the people he mattered to the most, he was a lot more.
Rest in peace and God bless, Joe Kennedy.
I often shoot photos at games, not as a fan, but sometimes for an assignment. Anyhow, he are the photos I took of Joe Kennedy earlier in the spring. I cannot remember the details of the game, but here are a few photos that I had in my archives.