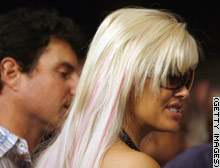 I have not spoken much about Anna Nicole Smith for the past few weeks, but today the findings on her death were publicized.

From CNN:

"A drug overdose killed ex-reality TV star and former Playboy playmate Anna Nicole Smith, Seminole tribal police Chief Charlie Tiger said today. Broward County Medical Examiner Joshua Perper said Smith was taking nine different kinds of medication in the days before her death, including a sleeping aid." (CNN LINK)

What a shame.

Maybe the death of her son was too much to bear, and she took the path of least resistance.